Thirty-fourth Annual Meeting
OWSLEY FAMILY HISTORICAL SOCIETY
Independence, Missouri
May 31 – June 2, 2012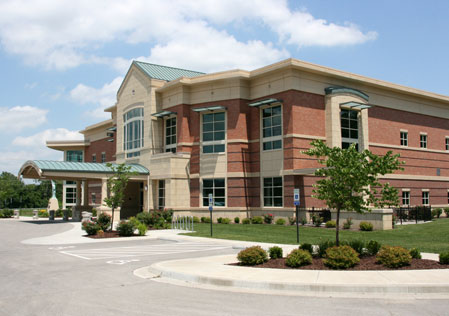 Midwest Continen
t Public Library
Midwest Genealogy Center
Independence, Missouri
Independence here we come!! Historic Independence was the outfitting post for trails west, site of a Civil War battle, in the midst of the Kansas/Missouri border war, and now is home to the new Mid-Continent Library with the third largest genealogical collection in the United States. Top sites include Victorian mansions, downtown square with 1859 jail, the Truman home (owned by Bess' mother), the Truman Presidential Library, and the "Arabia", a steamboat dredged from the Missouri River converted to an interesting museum displaying its cargo. Visitors guide available at (800) 748-7323 or www.visitindependence.com/ContactUs.aspx.
Come early or stay late to sight-see and/or to research ancestors at the Mid-Continent Library's Midwest Genealogy Center which is open seven days a week. You may want to browse their website at www.mymcpl.org/.
We begin on Thursday, May 31st, with early registration at 3 p.m. and visiting in hotel lobby. Then it's dinner on your own with cousins and friends. That evening is our Thursday dessert social. Bring memorabilia, photos, and tall tales.
Friday morning we begin with the Business Meeting. Then Ronny Bodine and Floyd Owsley will tell us about "Great Discoveries in Owsley Ancestry". After, we feature those cousins with roots in Kansas and Missouri (and elsewhere) who have not told about their ancestral lines and themselves at previous meetings.
Then it's OFHS luncheon at our hotel. After lunch, librarian Angela McComas will give us a tour of the new Mid-Continent's genealogy center--followed by research at the Library for genealogists and sight-seeing for others. You may want to take the covered wagon tour of the historic district or drive out to the farm where Harry Truman grew up.
Late afternoon we are invited to a garden party at the home of William Gann and Gary Toms where we will enjoy wine, hors d'oeuvres, and non-alcoholic punch. After, it's on to the National Frontier Trails Museum--open that evening exclusively for us. We'll have a catered Italian dinner--plus fruit cobbler--then have time to tour Museum exhibits.
Saturday morning Gary Toms will delight us with a presentation--followed by the
remainder of MO/KS cousins telling about their lines. After it's on to Kansas City, MO, to visit the National World War I Museum (Google to explore website).
We conclude with our Saturday evening banquet and OFHS book raffle. President Harry Truman will be our after dinner speaker. Then it's farewell until 2013.
Sheila Patterson, Co-Program Director
2012 OFHS Annual Meeting Registration Form
Information for our 34th OFHS Annual Meeting--Independence, MO
PARTICIPANT FEE
The $107 participant fee includes two more events than usual. Besides our traditional Thursday evening dessert social, Friday lunch and Saturday evening banquet at the hotel, beverages at meetings, and registration, this time we include a wine and hors d'oeuvres (and non-alcoholic punch) garden party at the home of Bill Gann and Gary Toms before our Friday evening dinner at the National Frontier Trails Museum. The $25 fee Friday evening includes admission to Museum exhibits, catered Italian dinner, taxes/gratuities.
EXTRA GUESTS FOR MEALS
Guests may attend any event without registering for conference. See Registration Form.
WHAT TO BRING/WHAT TO WEAR
We're gathering to have fun and "catch up" with family and friends--so bring casual, comfortable clothes. Some like to dress up a bit for the Saturday evening dinner, but that is optional. Please bring family memorabilia, photos and stories to share. Bring any books on Owsley ancestry you might like to donate for Saturday raffle (HBO, etc.). Sheila will contact those who haven't told about their ancestors and themselves previously re cousins sharing this information on Friday and Saturday mornings.
HOTEL INFORMATION
We're meeting at the same Hilton Garden Inn as last Independence meeting--19677 E. Jackson Drive. I-70 to exit 17 in Independence. Go north of Interstate on Little Blue Parkway, turn left on E. Jackson Drive and make a u-turn to the hotel. Connie Howard has negotiated a very favorable contract for us. OFHS room rate is $94 plus tax (vs $149 otherwise). Hotel will honor OFHS rate two nights before and after conference space available--so reserve early. Reservation deadline is May 2nd--(816) 350-3000. Be sure to mention OFHS for our special rate. Check in is 3 p.m.
Rooms have microwaves, frigs, coffee makers and free wifi--one can send work from sleeping room to printer in business center. Heated indoor pool, whirlpool, fitness room, pantry in lobby, room service, full breakfast available, and award winning restaurant--featuring Kansas City steaks--plus lounge.
NEED MORE INFORMATION?
Hotel, meal and registration: contact Connie Howard at (870) 892-9364 CDT until May 28th. Program: contact Sheila Patterson at (541) 343-8093 PDT or lmnop9@juno.com through May 27th. Please include phone number in emails. May 28 on, leave message at hotel.
DEADLINE--MAY 2
Be sure your reservation reaches Connie Howard by May 2, 2012. Same deadline for special Owsley Family rate at hotel. Exceptions re OFHS deadline, contact Connie Howard.
Hilton Garden Inn - Independence, Missouri

2012 OFHS Annual Meeting Registration Form